Captain Andy's Sailing Background
1) USCG Coastal Navigation; Introductory and Advanced Certificates
2) Thai Captain's License
3) 2 years of sailing school around the age of 12
4) Years of sailing Hobies, Omegas, Lasers and Sabots in San Diego and The Royal Varuna Yacht Club in Thailand
5) 8 months of coastal cruising in the gulf of Thailand on the Wind Spirit with crew
6) Solo voyage down East Coast of Malaysia from Thailand to Singapore
---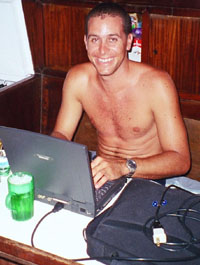 Resume
Andy Orsini
Place of Birth: Ithaca, New York, USA,Date of Birth: 7 April 1974
andyorsini13@yahoo.com

EDUCATION
Graduated in 1997 from the University of California, San Diego
Bachelor's of Science in Biochemistry / Cell Biology,
Minored in Economics and Literature / Writing, Overall GPA of 3.6
FOCUS
Metabolic Biochemistry, Virology, Organic Chemistry as well as multiple Laboratory classes which included Biochemical Techniques and Protein Analysis.
EXPERIENCE
2002 May – Nov
GenStar Therapeutics (Biotechnology Firm), San Diego, CA, USA
Quality Control Technician and Materials Management Department Head
· Ordered, Received, Stored and Released critical materials for the production of a gene therapy vector for Hemophilia
· Performed Cell culture testing; quantitative as well as qualitative assays for the viral vector
· Maintained two Human Cell lines designed for the Viral Vector
· Utilized Standard Biochemical equipment such as a Spectrophotometer, PCR Machine, Bio-safety Cabinets and Multi-well Assay Readers.
· Performed EM testing of an 8-room Clean Room facility
· Identified and cataloged 40 to 50 different microorganisms
1998 Sept to 2000 Sept
NOVA (Largest Commercial Language School in Japan), Chiba and Miyazaki, Japan
English Language Instructor
· Planned and Implemented language lessons including techniques for challenged students
· Independently learned to read, write and speak Japanese moderately well
1996 and 1998 July to Sept
Wards Cove Packing Company Limited, Juneau, Alaska
Caviar Processor
RECONSTRUCTION OF 27 YEAR-OLD SAILBOAT
Chao Praya River, Bangkok, Thailand (2001 Feb to 2002 Dec)
Boat Builder
· Rebuilt 20 % of hull, 30 % of wood/fiberglass deck, electrical system, teak interior, internal plumbing, marine diesel engine tune-up and overhaul
· Managed construction team of up to five skilled laborers in the Thai Language
Personal Profile:
Outgoing, athletic, trustworthy, hard working, organized, confident, practical.
---
Who Captain Andy Really Is
Now that is the question. I think the best way to find out is to read some of the stories in the stories section of this Webpage. Here I will be brief and just offer lables.
I am a surfer. I am a carpenter, a guitar player, drifter, sailor, avid book reader, movie lover, passionate man, excellent dancer, cook, humanist, anti-nationalist, traveler, mountain climber, intelligent and creative human being. I was a biochemist. I was a baker, a cannery worker, a chemistry tutor, an eager student, a sad hearted youth. I will be a firefighter, a writer, a lover, a kind husband, a great father, a blue water sailor, a webpage builder, and a loving son and brother.